Our first post-COVID show
We've just come back from a weekend up in the Big Smoke where we exhibited some of our top road cycling brands at Rouleur Live.
It had been a while since our last trade show… So it felt great to finally catch up and meet so many passionate cyclists from around the UK. For us, the show was a few weeks in the making; sourcing and building the bikes, designing the backdrops and making sure our team was generally on top form.
The team drove up from sunny Gosport on Thursday morning and spent the day getting our areas looking their best.
We had two large display booths; one full area dedicated to Colnago bikes, and the other split between CeramicSpeed and Vision / FSA.
Colnago Bikes at Rouleur Live
Naturally, the Colnago booth was Tour de France inspired with a focus on Tadej Pogacar's 2021 yellow jersey prowess. So much so that two of the three bikes on display were related to Tadej's achievements.
On there, we had a TDF Capsule Collection V3RS in the Yellow Jersey paint scheme, which features:
Campagnolo Super Record EPS disc groupset
Campagnolo Bora Ultra WTO db wheels with C-LUX finish
Vittoria Corsa clincher tyres
Deda Elementi ALANERA DCR handlebar
Prologo Scratch M5 Nack saddle
Colnago carbon bottle cage
The second Tadej bike on display was one he designed himself, and the first-ever bicycle to integrate blockchain technology. The one and only Ice & Fire V3RS is the bike he rode at the 2021 World Championships in Flanders.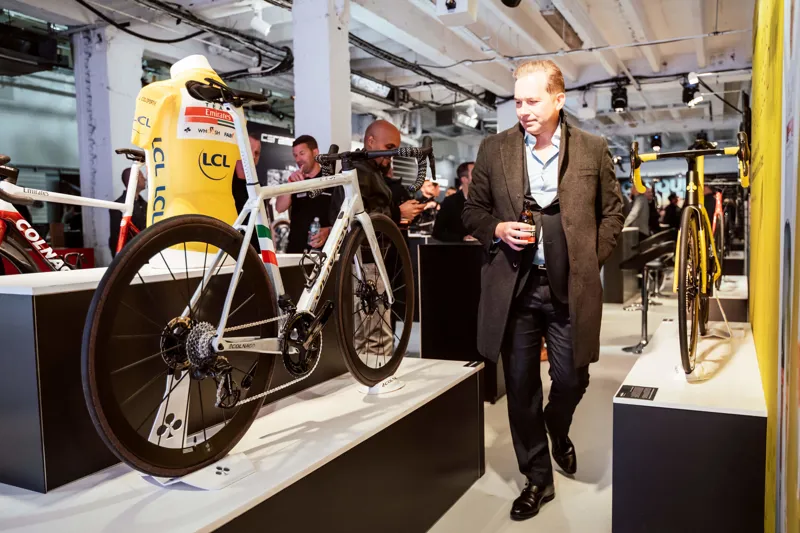 Last but not least was the famous Colnago C64 in frozen white, which was spec'd with Lightweight wheels, Hutchinson Gridskin Fusion 5 tyres and Shimano's brand-new Dura-Ace 9200 disc groupset. Naturally, we also installed CeramicSpeed's brand-new 9200 compatible OSPW on there too.
CeramicSpeed at Rouleur Live
Across the way, the CeramicSpeed booth displayed ambassador Gustav Gullholm's (@dangerholm) fully custom Scott Addict gravel bike, as well as a drivetrain setup showcasing the OSPW.
Alongside this was a preview of a potential collaboration project between CeramicSpeed and none other than Burberry – dare we say the perfect combination for the Rouleur Live audience! Of course, the new Dura-Ace 9200 OSPW was also on display for people to take a closer look.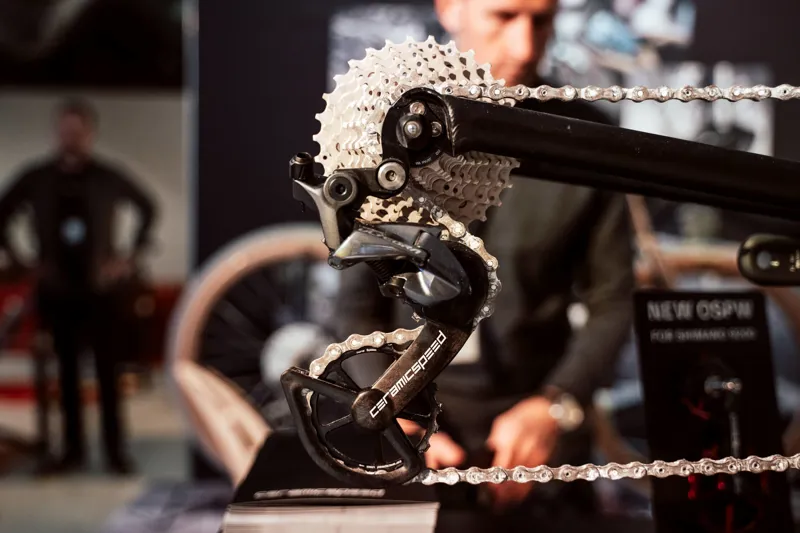 FSA and Vision at Rouleur Live
Over on the FSA / Vision side, we had Vision's brand-new Metron 45SL and 60SL carbon wheels, adorned by Hutchinson's Gridskin Fusion 5 tyres.
Next to that was a closer look at FSA's KFX SIC integrated XC MTB handlebar and K-Wing AGX carbon handlebar, as well as a showcase of both the budget-friendly PowerBox Pod SC and the high-performance K-Force Team Edition Road crankset.
Last but not least, we premiered the brand-new Quintana Roo V-PR triathlon bike. We released the V-PR to the UK public only hours prior to Rouleur Live.
The bike was built using the Metron TFW wheel at the rear and the Metron 3 Spoke Disc wheel up front, Metron Crankset, CeramicSpeed OSPW and Hutchinson Gridskin Fusion 5 tyres.