Quintana Roo announces the debut of the V-PR triathlon bike, marking QR's evolution in tri bikes toward greater strides in performance across a wider variety of courses, thanks to a renewed focus on next-level weight savings and aerodynamic gains.
Design Overhaul
Newly designed from the ground up, the Quintana Roo V-PR is lighter and more agile than any triathlon bike available today.
Using new lightweight carbon cloth and instilling meticulously-engineered aero advances, the V-PR is more capable than ever against the wind but adds remarkable weight savings—upwards of two pounds lighter than many of our top competitors. The weight savings and engineered stiffness make the V-PR the best climbing and quickest-accelerating bike in triathlon, but also one that handles in a nimble manner that has long been absent in triathlon bikes.
"We really honed in on furthering performance. Be that aerodynamics, light weight, how the bike feels, how it behaves, functions, conveniences, everything about it got rethought," said QR lead engineer Brad DeVaney.
Aerodynamics
Drawing on decades-long heritage of aerodynamic study in tri bike development, resulting in race- and award-winning PRseries triathlon bike range, the V-PR gets faster with a redesigned asymmetrical SHIFT+ downtube, moving air even more cleanly onto the bike's most aero non-driveside side. The V-PR diverts and advances aerodynamically with a new Leading Edge Absent 2 (LEA.2) non-driveside chainstay design and a new lightweight QR.SF fork, yielding a bike that delivers a 5.02 percent aero advantage over the PRsix2 Disc.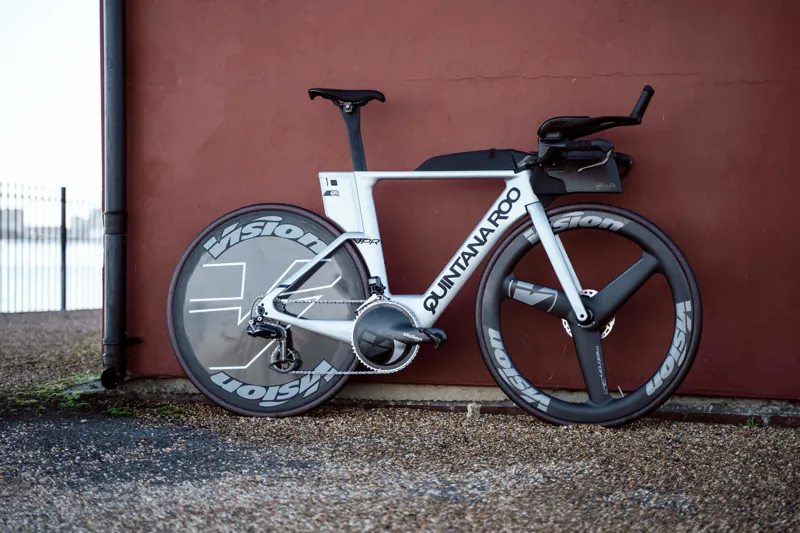 Weight Savings
Of equal focus was an addressing of weight and the performance advantage that comes with a lighter, more nimble bike. Select carbon materials choice, meticulous materials layup, and FEA testing allowed our team to not only develop a fast, practical bike, but one that delivers significant weight savings—upwards of two pounds on a complete build compared to many of our competitors — and handling advantage that makes the V-PR the most versatile tri bike on the market.
To provide for the greatest range of fit variability, the V-PR will be made available in two cockpit versions: Vision's most-aero Pro or its hyper-adjustable TFA cockpit. Either version will affix to Vision's integrated and invertible carbon basebar/stem.
The V-PR is available in our lightweight standard Stealth paint option, and also debuts QR's Atelier Paint Program, with five new premium paint options, with all applied in-house by QR's team of artists: Midnight Sky, Rosso Corsa, Mica, Argent and Merlot.
Features
Features of the Quintana Roo V-PR include:
Full carbon frameset, engineered and wind tunnel tested to optimize aerodynamic advantage across a wide variety of wind conditions
Industry-leading lightweight triathlon chassis: 2,169 grams for frame, fork, seatpost QBox and top tube storage
Geometry and aero tube profiles tailored to deliver sharp, predictable handling, with engineered comfort over long miles
Wide range of Vision carbon aerobar options and rise/fall options, with complete internal hydraulic disc brakes and Shimano Di2 wires
A threaded T47 bottom bracket for a solid, creak-free drivetrain interface
Multiple options of drivetrain, wheelset, integrated hydration, saddle, powermeter and colors available during purchase online, including V-PR Fit-Ready bike fit setup